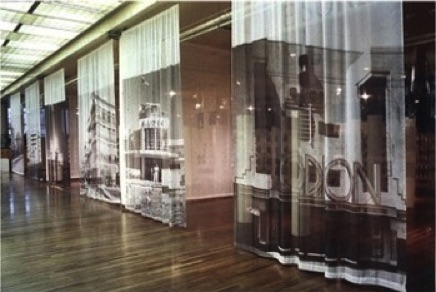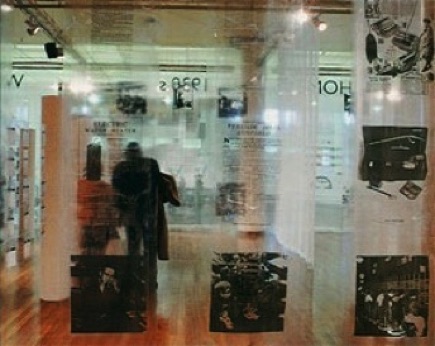 The South Bank Centre invited Tea to take a new look at the 1930s as part of their Towards the Millennium Festival. The installation brought together many diverse images and perceptions of the era including archive photographs and sound recordings of voices of authority alongside the opinions of 'the man in the street' collected by Mass Observation.
Visitors to the exhibition were invited to add their own reflections, whether they were alive in the 1930s or not.
Ten percent of these 2272 contributions were analysed by students in the School of Independent Studies at the University of Lancaster and they all formed a widely distributed boxed archive. ISBN 1 900000 0 01 6
"As the archive recordings play you pick your way among cuttings, the photographs and personal responses, all of them mounted in transparent plastic. These are hung between the white pillars at the back of the Festival Hall Foyer and laid out in rectangular lines so that you can always see not only the section you are in but through to the rest of the show. The effect I found oddly mysterious, I was never sure where to go next. It's a kind see-through maze, if you can imagine such a thing!"
Paul Allen, presenter Kaleidoscope, BBC Radio 4
"The exhibition developed the idea of how we absorb information. It questioned how impressions and images of the past are created from information we receive from different sources, from 'official' sources such as newspaper photographs and archive radio recordings or from 'personal' sources such as the family album and the recollections of older friends and relatives. Tea chose to examine information on the themes of Home, Work and Leisure as areas where the public and the private interweave."
Emma Anderson, Head of Foyer Visual Arts, The South Bank Centre.
"The part of the exhibition which is to do with showing you images of the 1930s is really only an incitement for people to write down their own impressions and hang them up... It is curious that the nation as represented in this exhibition seems split pretty much 50:50 between those who think it was some kind of Golden Age and those who think it was the most terrible time in the entire century.... It was often said of the documents which were produced for Mass Observation surveys that they had the quality of poetry or sometimes of surrealist works of art. One of the invigorating things about this exhibition is that it is absolutely true today. I think that on the evidence of this exhibition the British popular imagination is as lively and as strange and as bizarre as it ever was in the 1930s".
Kevin Jackson, Critic, Kaleidoscope, BBC Radio 4