Other People's Shoes
1992/4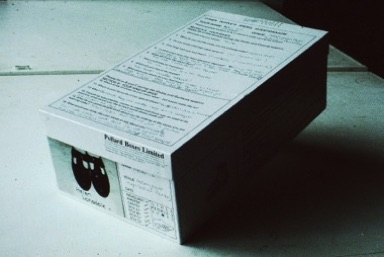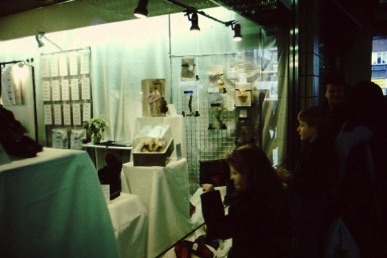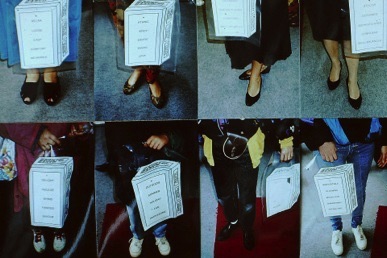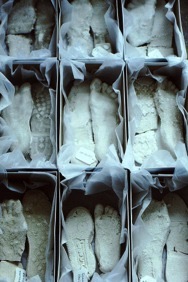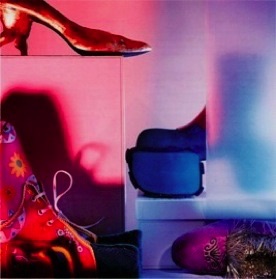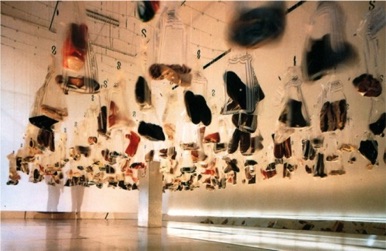 The Other People's Shoes project was set up with Impossible Theatre to investigate the various systems and situations, industrial, commercial, cultural and personal, in which this familiar artefact is encountered.
The variable identity and value of shoes was revealed through a series of processes and contexts exploring different people's relationships to them. These were documented using a wide range of media.
The project took place in three regions and involved working with people from industry, commerce, education, the media and thousands of members of the public.
The modules of the project were:
Consumer Research. Performance workshops in clubs, community centres and schools to raise awareness and collect information for design briefs in the form of shoe boxes.
Design. Interpretation of these briefs and commissioning of artists' proposals.
Production. Factory residency and workers in homes, studios and schools.
Retail. Three shops in Rawtenstall, Dewsbury and Leicester displayed shoes as a marketable commodity and involved people in making life-style choices.
Distribution. Marketing and a publication with commissioned articles and photographs by Jo Bradbury. ISBN 0 9521955 0 X
Museum. In three galleries, The Harris, Leeds Metropolitan University and Leicester City Gallery. People curated and logged observations about worn shoes which were displayed in rows of hanging bags.
Myth. Representations of the project in the press, radio and television.
Multiple funding sources including national and regional arts boards, local authorities and the industry.