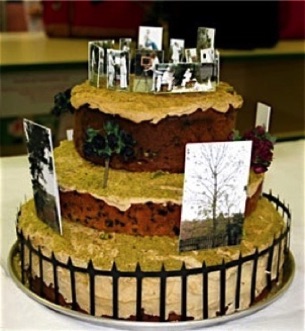 Tea was commissioned by cultural geographer Holly McClaren to look at this border town as part of the Bordering Project. Acknowledging their status as visitors to the town, Tea artists activated and recorded two sites that are promoted as part of the town's identity as a tourist destination, the Castle Mound and the Market. On the Mound the artists performed a series of actions referencing its history and use. Documentation was presented to stall-holders in the adjacent Market in the form of a cake which was then shared with them. These brief encounters were again recorded and translated into models inserted into specially designed carrier bags which in turn were displayed on a market stall. Bags and postcards were distributed in the town and two videos were shown at Qube Gallery.
"A very rich project. That (the cake) seemed a wonderful way of finding a kind of symbolic exchange around the notion of hospitality... a great metaphor!"
Iain Biggs, Reader in Visual Art Practice, University of the West of England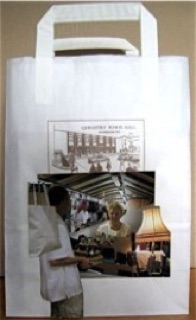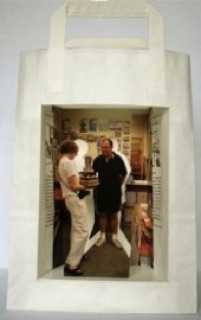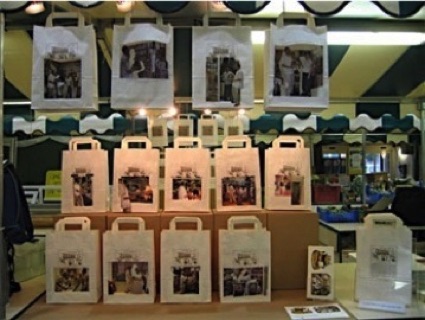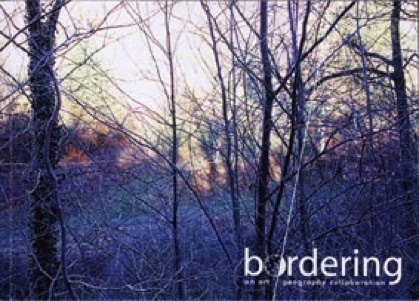 The Bordering Catalogue
Includes documentation of Tea in Oswestry and essays by Philip Crang, Professor of Cultural Geography and Iain Biggs, Reader in Visual Art Practice.
ISBN 978-0-9551179-2-3 Published May 2007